ASUS ROG Zephyrus: The Ultimate Gaming Laptop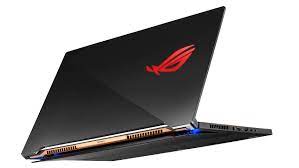 The ASUS ROG Zephyrus is a high-end gaming laptop that has been designed to meet the needs of serious gamers. This laptop is packed with powerful hardware and features that make it an excellent choice for those who demand the best performance from their gaming machines.
Powerful Hardware
One of the key features of the ASUS ROG Zephyrus is its powerful hardware. This laptop is equipped with an Intel Core i7 processor, which provides lightning-fast processing speeds. It also has a dedicated NVIDIA GeForce GTX 1080 graphics card, which delivers stunning visuals and smooth gameplay. Additionally, the laptop comes with 16GB of DDR4 RAM, which ensures that you can run multiple applications and games simultaneously without any lag.
Advanced Cooling System
Another standout feature of the ASUS ROG Zephyrus is its advanced cooling system. This laptop uses a unique cooling system that allows it to maintain optimal temperatures even during intense gaming sessions. The laptop's cooling system includes a series of heat pipes and fans that work together to keep the internal components cool. This ensures that you can play your favorite games for hours on end without worrying about overheating or performance issues.
Thin and Lightweight Design
Despite its powerful hardware and advanced cooling system, the ASUS ROG Zephyrus is surprisingly thin and lightweight. This laptop measures just 0.7 inches thick and weighs only 4.9 pounds, making it one of the most portable gaming laptops on the market. This makes it easy to take your gaming on the go, whether you're traveling or just moving from room to room.
The Verdict
Overall, it is an excellent choice for serious gamers who demand the best performance from their machines. With its powerful hardware, advanced cooling system, and thin and lightweight design, this laptop is sure to impress even the most demanding gamers. If you're in the market for a new gaming laptop, the ASUS ROG Zephyrus is definitely worth considering.